Reading is a key part of university learning for all subject areas. As Semester 2 gets underway and you start to work on new modules and assignments, we are here with five tips to help you access the books you need to read.
1. Let your reading list guide you
Reading lists are created by your module leader to include sources to support your learning in that module. You'll find your lists linked to your Canvas courses and you may find that items are tagged as essential, recommended or background. Use the tags to help you identify things that are a must read, alternative books on the same topic and wider reading materials. Your module reading list links directly to Library Search so you can see where print and electronic copies are available and reserve books that have already been borrowed.
2. Reserve the books you need
Essential books are often in high demand and you may find that the book you want to read has already been borrowed. That's why once you have logged in, you will find the request this item button in Library Search. When you request a book it enables us to keep essential titles circulating by:
triggering a shorter loan period so that more people can borrow it.
helping you access the book quicker by placing a reservation on the next copy returned.
alerting us to high demand books. We will investigate buying more print copies, e-book availability and alternatives such as scanning a key chapter to link to your reading list.
Look out for multiple versions of the same book listed in Library Search too. New, revised or international editions will appear separately but are a way of finding more available copies.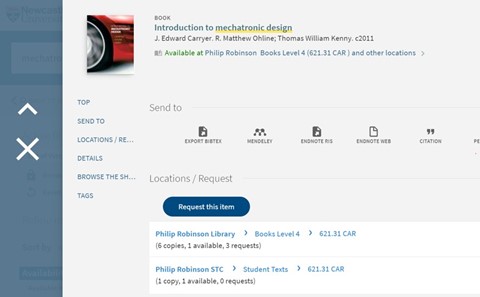 3. Recommend a book?
You can help us shape our collections by recommending books and e-books we do not have in stock. Or you might want to recommend that we buy a print or electronic copy of something we already have. Simply fill in the recommendation form with as many details as you can.
Recommend a book is especially popular for students working on research projects and dissertations. Recommendations linked to your unique projects and emerging topics helps us maintain a collection that meets your changing needs. In 2021-2, we added 1615 books recommended by Library users.
4. Make the most of e-books
The books you see on the shelf represent just half of what's available to you. From the Library you have access to over 0.8 million e-books and wherever we can, we buy e-book copies of the essential books you need. E-books are ideal for chapter or section reading.
The e-books we buy are under an institutional licence, allowing you to log in using your username and password. Some publishers may restrict the number of simultaneous users or the number of views/ downloads, but we keep a close eye on this and buy additional electronic access as needed.
Unfortunately, not all e-books are available to university libraries. Where this is the case, we may be able to digitise chapters or sections of print books. You can quickly identify e-books on your topic in Library Search by applying the Full Text Online filter you search results.
5. Talk to us
We use lots of usage data to try to keep ahead of which print and e-books are in high demand, but we know there are times when you will be best placed to tell us that you can't get hold of the books you need. You can use Library Help to get in touch with us at any time to tell us where you are having difficulty accessing your reading materials.