October marks an annual, month-long celebration of black history, its culture and its impact on our nation.
Black History Month was established in 1987 - on the 150th anniversary of Caribbean emancipation – and raises awareness of important names and events in the history of people of African and Caribbean descent.
During this month, we shine additional light on Black achievement and to ensure nothing is lost or forgotten, we are celebrating what this time of year stands for through the universal language of food.
While remaining a valuable time to learn about the history of black people within our community, October gives us with the opportunity to further delve into the history of African and Caribbean food with greater appreciation. This year, to celebrate, our catering units are exploring the roots of African and Caribbean cuisines by dedicating a week to serving an African and Caribbean-inspired menu at our Street Food Kitchen.
Providing food for thought - quite literally - we begin by exploring just some of the incredible ingredients that give these cuisines their trademark taste, along with providing a couple of recipe ideas, below.
Rice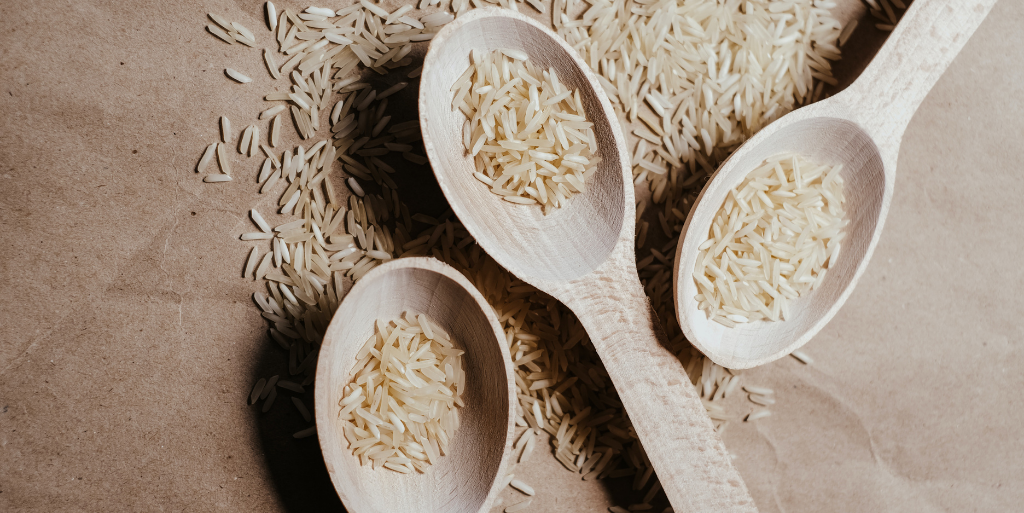 As much an African cooking staple as it is an Asian one, having been cultivated in West Africa for over 3,000 years, rice is one of Africa's oldest and most important ingredients.
Thought to have originated in Niger and then distributed across West Africa, for centuries, West Africans cultivated and produced a variety of rice cultivars suited to different recipe types and needs – something that is evidenced even today where you'll discover local varieties of rice specific to certain countries in West Africa.
In part, because of their rice cultivating expertise, many West Africans were enslaved and brought to North America, where they worked in the lowland regions of Georgia and South Carolina to grow rice.
Coconuts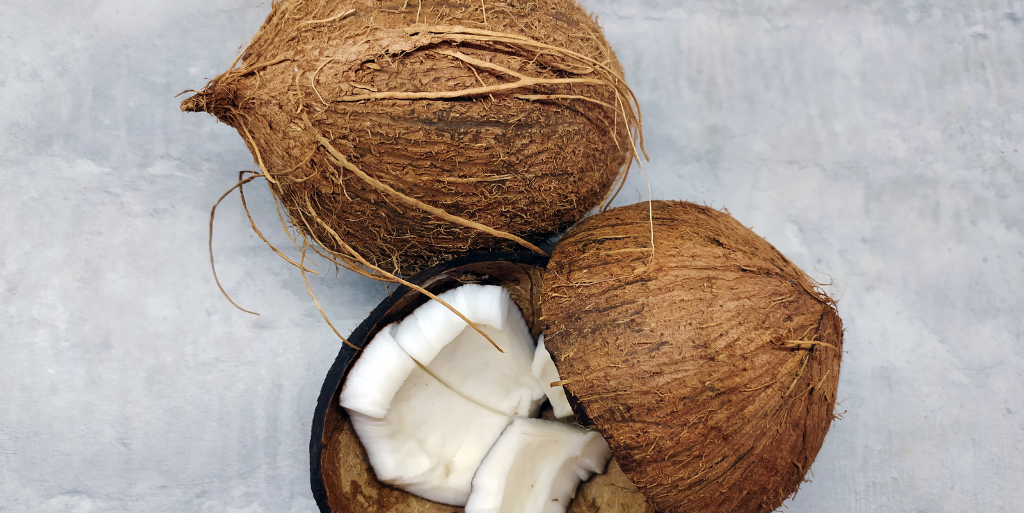 When you think of the breath-taking Caribbean coastline, it's likely that amongst the images of white sandy beaches and clear blue seas, you'll envisage lines of coconut trees scattered across the landscape.
These trees are anything but for show, and are treasured for the fruit they bear which inspires many traditional Caribbean dishes.
Eaten and used in Caribbean cooking when the fruit is both fresh and dry, the Caribbean people take pride in using coconuts at every stage of its maturity to ensure no part of it goes to waste. As such, it can be applied to all sorts of dishes in a variety of forms – from fleshy savoury curries and milky sweet drinks, to flaky dessert recipes as well as being used as a cooking oil.
Coconuts are also an essential ingredient in Bajan conkies - a popular savoury dessert once made to commemorate the British colonial celebration of Guy Fawkes Day on November 5th - which are now popularly eaten during Barbados' Independence Day celebrations on the 30th of November each year.
Okra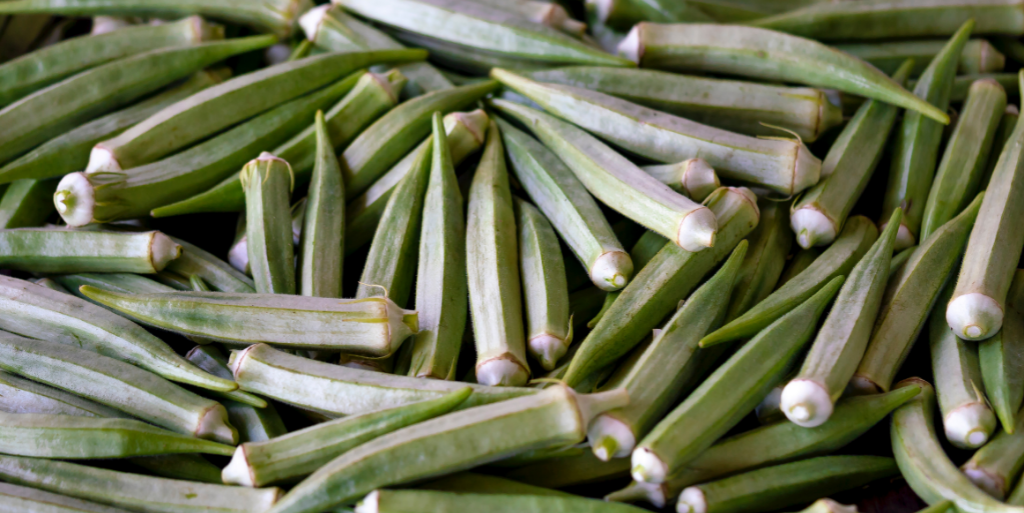 Originating from Ethiopia from as early as 12th century BC, okra is a member of the mallow family of plants, sharing this family with its non-edible cousin; cotton. An important ingredient in African cooking, this versatile vegetable plays a prominent role in many African and African diaspora cuisines, largely due to its historic abundance located all over Africa.
Finding its way to North America through the Transatlantic Slave Trade in the 16th century, okra became a staple vegetable grown in enslaved workers from West African nations' personal gardens, providing reliable sustenance when food was intentionally limited by slaveholders.
As such, many of the meals they made that contained okra drew on the cuisines and recipes of their homelands.
The tainted history behind this incredible ingredient still lives on today through the realm of Louisiana's famous dish, gumbo. The dish, whose name originates from a West African term for 'okra', is widely acknowledged to have been created by enslaved workers during the 18th century, and has remained as one of the city's trademark dishes ever since.
To celebrate Black History Month through food yourself, why not have a go at making your own Afro-Caribbean-inspired meal with two of our own recipes, below? Or, if you'd like to try one of the dishes yourself, join us at the Street Food Kitchen outside the Student's Union from the 25th of October.
Recipes
Trinidadian Beef & Vegetable Stew with Dumplings
Ingredients
Green seasoning
1 cup fresh cilantro (leaves and stems)
4 cloves garlic
1 large yellow onion
1/4 cup chives, chopped
2 TBSP fresh thyme
2 TBSP fresh lime juice
1/4 cup water
Beef
3/4 cup green seasoning
1 lb stewing beef
2 TBSP coconut oil
2 TBSP coconut sugar
2 cups carrots cut into 1/2 inch long pieces
3/4 cup full fat coconut milk
1/2 cup water
3/4 tsp sea salt (plus more for seasoning)
Dumplings (optional)
100g plain flour
100g butter
1/2 tsp salt
1/2 cup water
Method
Add cilantro, garlic, onion, chives, thyme, lime juice and water to a food processor and pulse until combined into a relatively smooth paste.
Place beef in a large glass bowl and sprinkle generously with salt. Add 3/4 cup green seasoning to bowl and combine with meat. Allow to marinade overnight or for at least 45 minutes.
Once meat is ready, heat a large cast iron or stock pot with coconut oil on medium-high heat.
Add coconut sugar and use a spoon with a long handle to stir and incorporate with coconut oil. Allow sugar to heat until it begins to melt, bubble and brown. It's a good idea to keep your stove fan on because things will get smoky. Keep your seasoned meat handy.
Once the sugar has turned medium-dark brown, it's time to add in your seasoned beef. Add the beef, reserving most of the juices/seasoning in the bowl to add to the dish later on. Stir beef continuously into the caramelised sugar so that it's fully coated (for about 1 minute).
Reduce heat to medium and cover pot to allow meat to release water (3-5 minutes).
Add chopped carrots, remaining reserved seasoning from meat, salt, coconut milk and water to pot. Bring to a low boil, reduce heat to low and cover pot. Allow to cook 40 minutes until beef is tender.
Meanwhile, make dumplings by combining flour, butter and salt and mix until combined and then add the water. Roll into small balls.
After 35-40 minutes, add dumplings to pot and gently stir to submerge in liquid. Cook 5-10 minutes more or until beef is sufficiently tender.
Taste for salt and adjust as necessary. Serve warm.
BBQ Lentils over Cheesy Grits with a Fresh Bread Roll
Ingredients
200g raw lentils
600ml vegetable broth
1 bay leaf
100g diced carrots
1 white onion (diced)
1.5 lt barbecue sauce
1/4tsp salt
1/4tsp pepper
1/4tsp smoked paprika
350g cooked grits
250ml milk
2tbs butter
100g cheddar
50g vegan parmesan
Method
In a large pot, bring lentils, vegetable broth and bay leaf to a boil. Let simmer uncovered for about 30-35 minutes or until lentils are tender.
In a large skillet, heat 10ml oil over medium heat. Sauté your onion and carrots with salt, pepper, smoked paprika until carrots are soft and onions are translucent.
Add barbecue sauce and give it a good stir. Drain lentils and reserve the cooking water.
Pour sauce over your lentils and mix well. If you find that your sauce is too thick, just add a little bit of your cooking water to thin it out.
To make your grits, mix all Grits ingredients until cheese and butter has completed melted.
Serve your lentils over grits.