Find out more about the resources available to support you with the rising cost of living.
The rising cost of living is a huge concern for us all and as we start a new academic year we know students may be concerned about the financial challenges which could lie ahead.
At Newcastle University, we have a range of information, advice and support to help you and we've pulled together a selection of resources currently available. We understand though that this is only a starting point and we're working hard on new initiatives to support you during this time.
A Cost of Living working group, made up of colleagues from across the University and sabbatical officers from the Students' Union, are meeting weekly to identify additional initiatives and sources of help and support for our students. Please look out for updates on these initiatives in our regular newsletters and this blog post.
Balancing your student budget
We understand managing your money at University can be a challenge so we've put together some top tips from across our services and facilities to help you balance your student budget.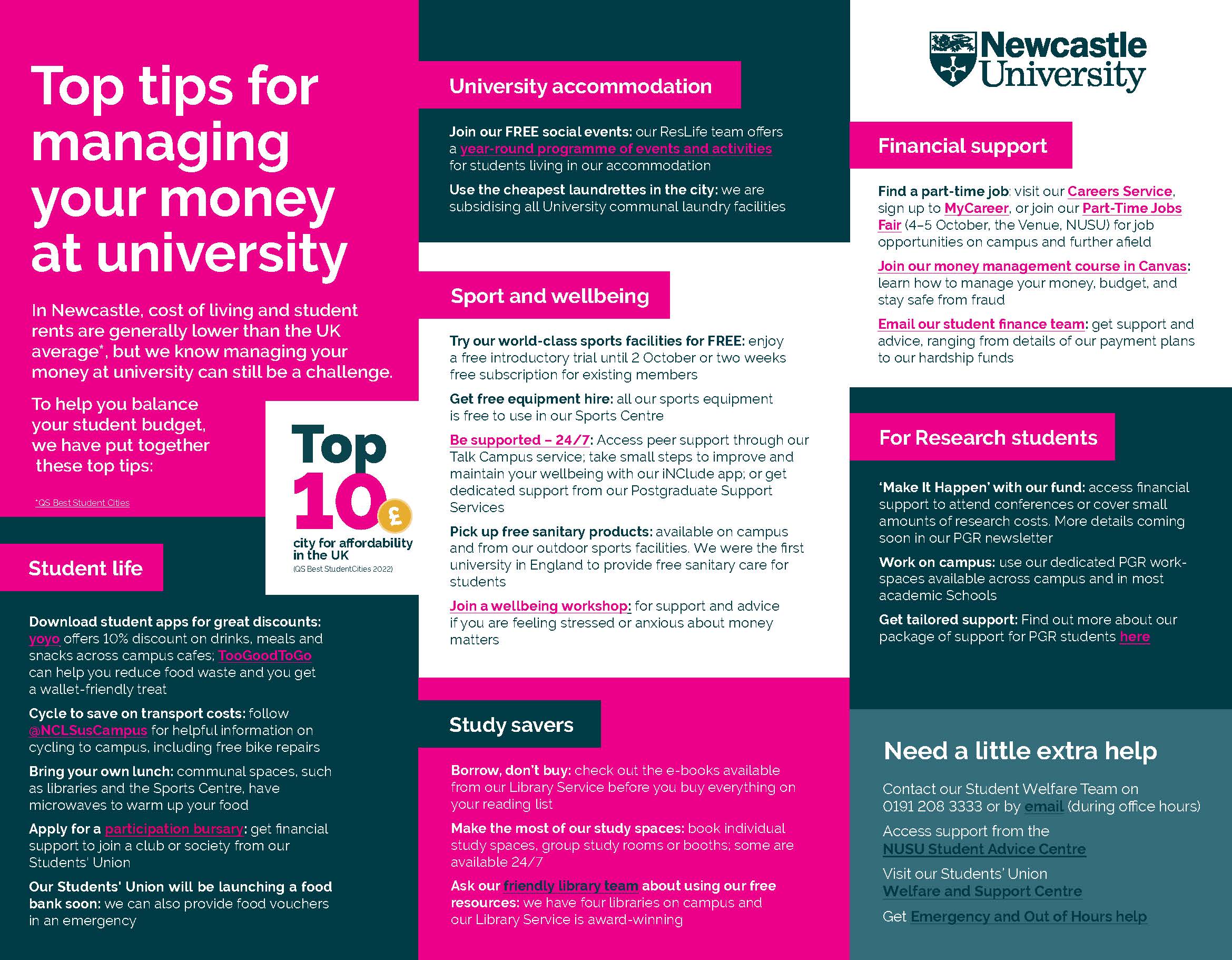 Whether it's warming up your homemade lunch in our communal microwaves or accessing the free e-Books and resources available from the Library rather than buying your own, there are a range of resources available from the University to help you minimise costs and maximise your budget.
The ResLife team offer a year-round programme of events and activities for students living in our accommodation to get involved in for free. Downloading apps like yoyo and TooGoodToGo will give you access to great discounts and following pages like @NCLSusCampus will offer helpful information on cycling to campus. Making small changes using the support available can help make a difference.
You may also be able to apply for a participation bursary from our Students' Union to help support joining a club or society. The team are working hard to launch a food bank too so please keep an eye out for details about this soon.
Make your wellbeing a priority. Our Sport & Fitness Centre are running a free trial until 2 October for you to try out the world-class facilities available. Be supported 24/7 by accessing peer support through our Talk Campus service or visiting our iNCLude app for healthy wellbeing habits. If you're feeling anxious about money matters, you can also join a wellbeing workshop for support and advice.
Looking to earn some extra money? Find out more about paid work opportunities at our Part-Time Jobs & Volunteering Fair, Tue 4 – Wed 5 October or visit our Careers Service and sign up to MyCareer.
If you would like to find out more information about managing your budget, please join our money management course in Canvas. You can also email our Student Finance team to access support and advice, including information about our payment plans and hardship funds. For Research students, please find out more about our package of tailored support here.
Need a little extra help? Please contact the Student Welfare Team, access support from NUSU Student Advice Centre, visit our NUSU Welfare and Support Centre or get Emergency and Out of Hours help.
Have your say
We need to hear your thoughts! Please complete the Cost of Living Form to tell us your ideas, suggestions and concerns about the rising cost of living and where you would like to receive more support and advice.

Your thoughts, recommendations and opinions will be shared anonymously in the Cost of Living working group to help inform and shape the new initiatives.
Other useful information
We will continue to update you with new additional initiatives and sources of help and support for our students in our regular newsletters and this blog post.