Staff and volunteers from across our University have been lending a helping hand to ensure that our students receive the support and supplies they need.
From knocking on doors or making welfare calls to hosting online events or providing food and supplies to those self-isolating, our selfless staff and volunteers have gone above and beyond, working tirelessly to help our students make the most of their university experience during this challenging time.
Here are just some of the ways they've been stepping up and helping out...
Catering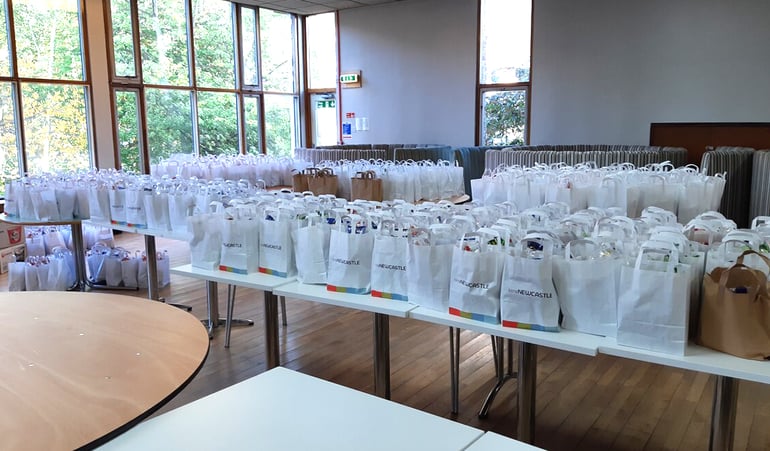 Our Catering colleagues and volunteers have been working around the clock to pack up and deliver food parcels and laundry detergent to students in halls. With more than 4000 food deliveries made to self-isolating students since the start of term, and over 10,000 meals prepared and delivered to students at Castle Leazes alone!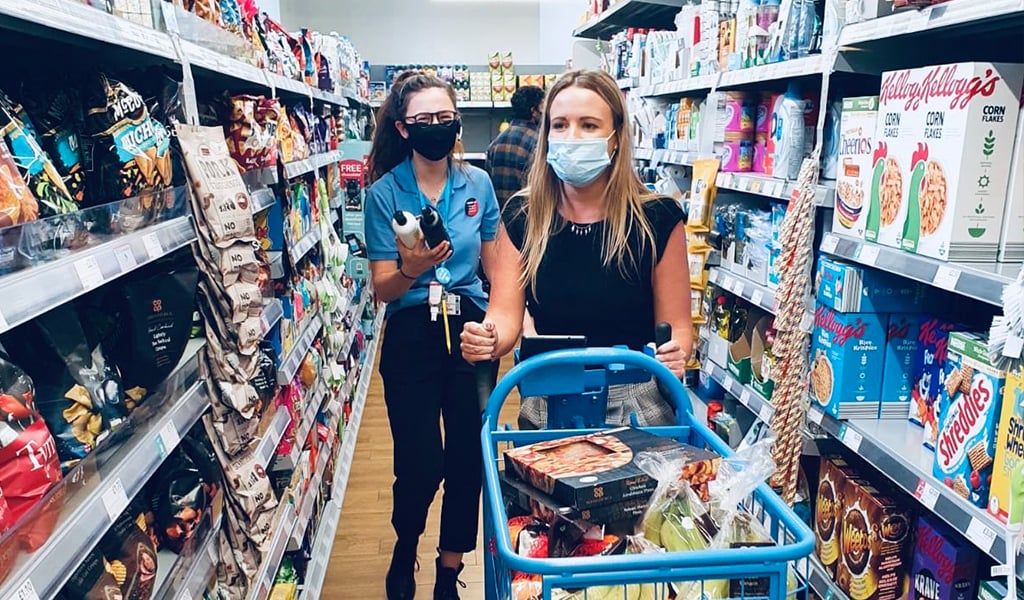 All food parcels were put together with goods from the Grainger Market, enabling us to help support our local economy and local businesses. Similarly, we issued 2,700 grocery vouchers to self-isolating students that are redeemable at our campus Co-op, making sure that we're contributing to the Students' Union and supporting future student activities. ​
NUSU President, Dorothy Chirwa and Vice-Chancellor and President, Prof Chris Day alongside other members of the Executive Board have even been spotted chipping in to help deliver food parcels to our students.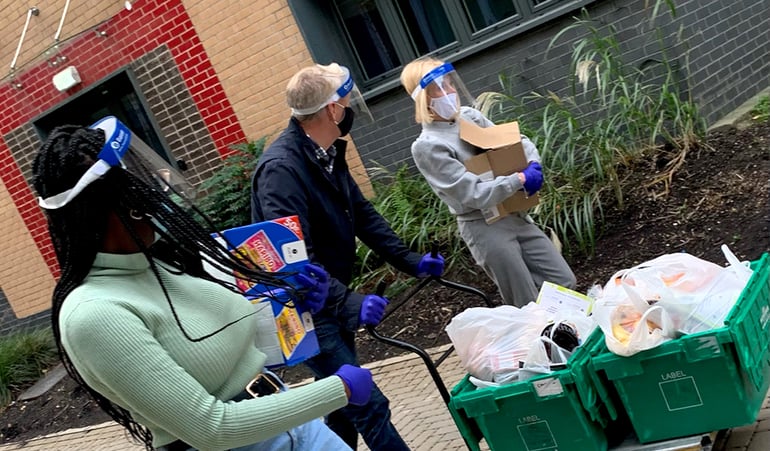 Accommodation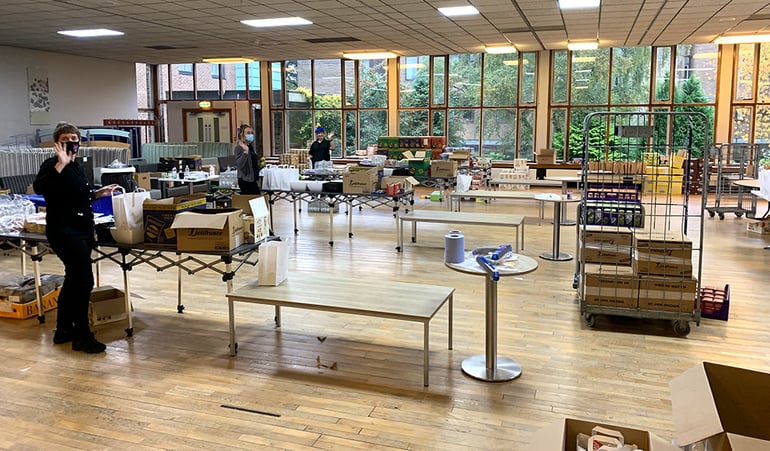 Our Residences Support team have provided immediate and ongoing support to over a hundred students since the start of term, following referrals on from our Security, Partnership staff, Residences, Allocation, Customer Services and ResLife teams.
Very close working relations between our Wellbeing and Security teams have been essential to successfully delivering this ongoing support to all students, including those who have been in self-isolation.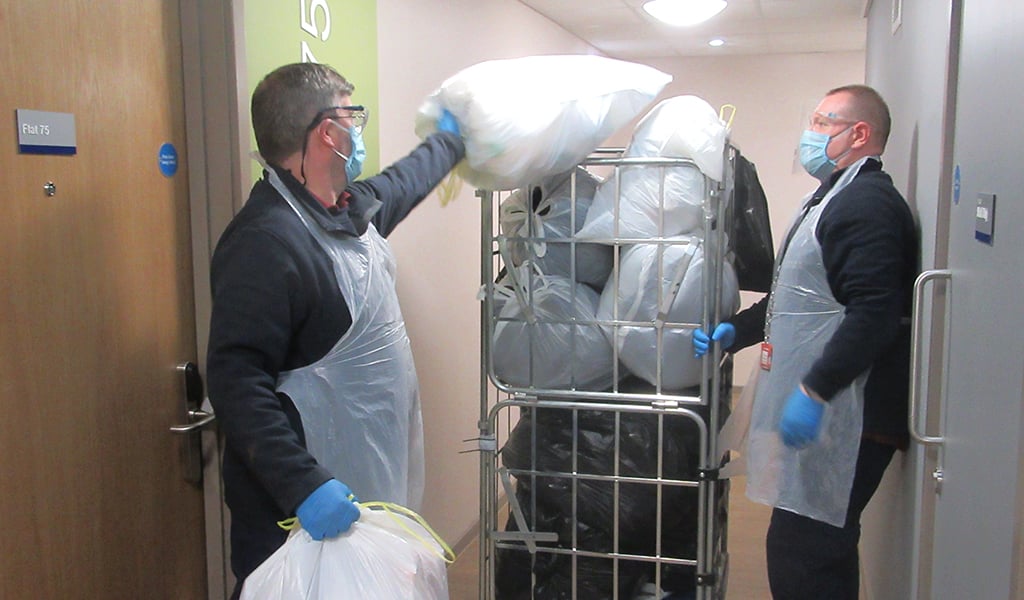 The Accommodation team has been busy assisting students settle in their new homes, handling over 6000 phone calls to our Accommodation Helpline so far.
Supporting our students with everything from contracts and finance to ensuring bins are emptied and offering ongoing help and guidance for any concerns that arise, our Residences Support team has ensured each and every one of our students has received a warm welcome to Newcastle despite the challenging circumstances.
Covid-19 Helpline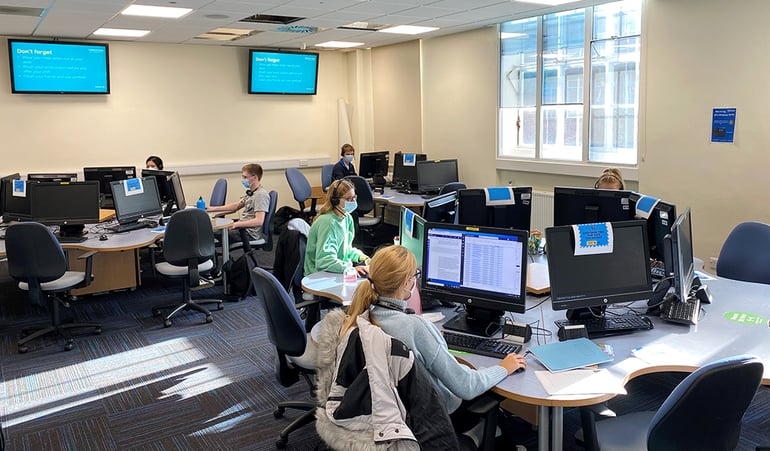 We've set up a dedicated Covid-19 call centre on campus, staffed by colleague volunteers, open seven days a week to ensure that there is always someone there to answer enquiries from students and parents.
In just one weekend, colleagues made 700 calls to students and handled over 200 incoming calls. By the beginning of the next week, over 3,000 students had been contacted by phone, email or text to check up on them and ensure they had all they needed.
Additionally, our Student Services telephone line has received 2,254 calls since 25th September and the team have been helping with everything from registration and tuition fee queries to advising on new campus safety measures and guiding students to our Self-Isolation Support Package.
Wellbeing & Chaplaincy
In order to provide ongoing support where and when it's needed, our Wellbeing team distributed 5,500 flyers to our halls of residence, letting students know how they can access Wellbeing Services and the new Talk Campus 24/7 mental health helpline.
We also set up a new 'Walk & Talk' scheme for students to provide the opportunity for a small, socially distant walk around Exhibition and Leazes Park close to the University campus. In groups of 6, it's been a popular event with International Students and is now available for all students to sign-up. More information can be found on our wellbeing site and there's also a virtual walk and talk available for those in isolation or unable to join the walks in person.
Learn more about the Wellbeing Support available to our students.
Library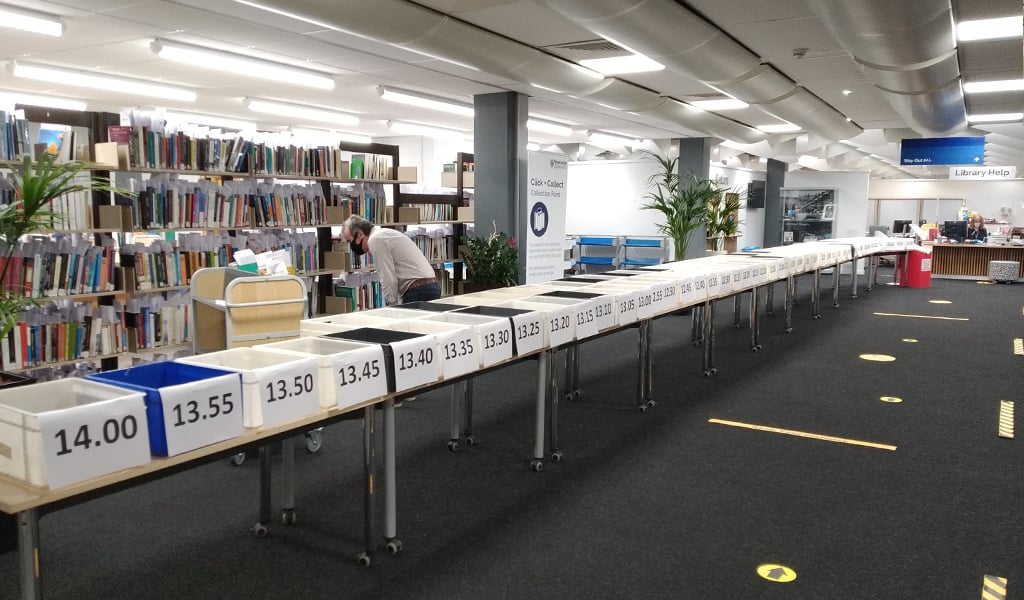 Our libraries are beginning to reopen and our students are now able to pre-book study spaces.
We've also introduced a Click and Collect service so students can still safely access print resources. To help minimise the spread of Covid-19, students can request items online via LibrarySearch, and our staff will pick them out, pack them up and have them ready to collect within a bookable 10 minute slot.
ResLife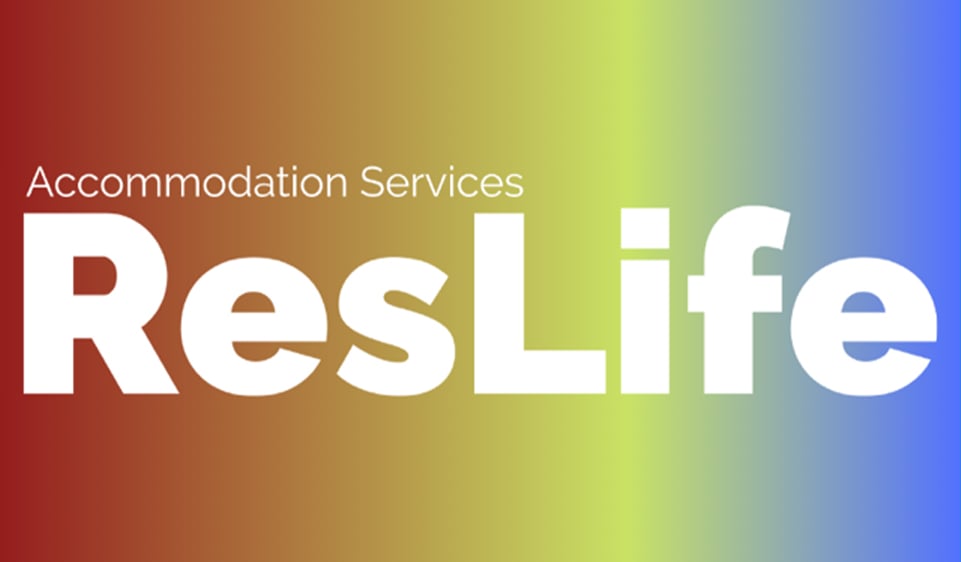 Our ResLife team has been supporting and interacting with students since their arrival to Newcastle with a range of online activities, social events, giveaways and webinars.
ResLife Coordinators and Student Assistants have been busy keeping our students entertained, delivering 56 individual event sessions across all our student villages, with over 930 students attending their evening sessions so far. Sessions include Quiz Nights, Netflix Parties, NUSU Society Information sessions, Arts and Crafts, and The ResLife Zen Den.
Additionally, ResLife have delivered 12 useful webinars to welcome new students, including Getting on with Your Household, Alcohol and Drugs Awareness, Report and Support and Independent Living. A further 12 seminars are planned, including Fire Safety and a range of Tops Tips sessions. Giveaway draws have included a Welcome Pamper Package, Sports Centre Memberships, Utilita Arena tickets and a Festive Pamper Giveaway.
See the ResLife Canvas module or follow Reslife now on Facebook or Instagram at Castle Leazes, Park View, Bowsden Court or Kensington Park Student Village for the latest events, contests and activities.
CommUNITY Life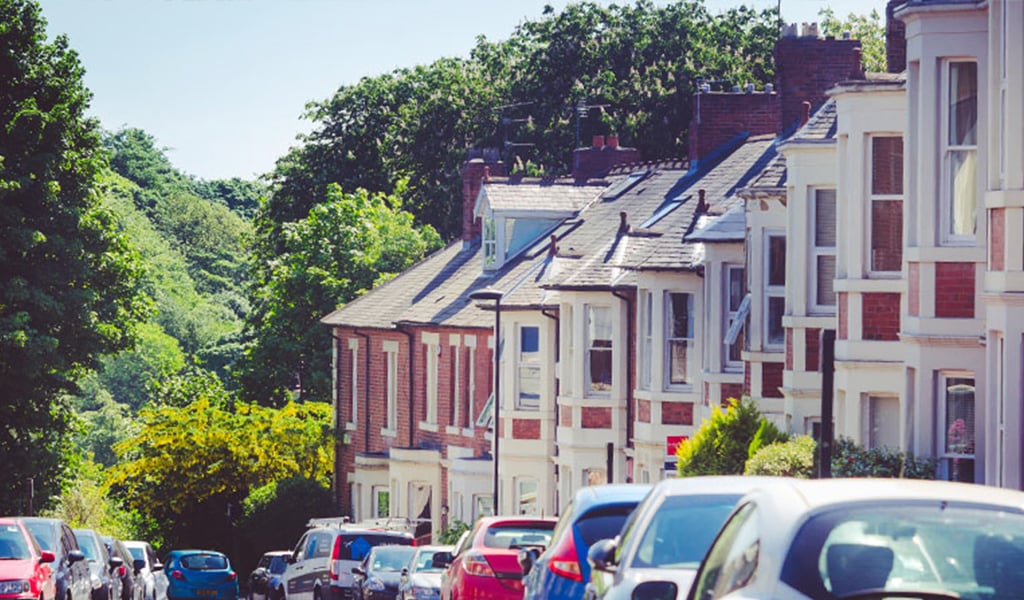 For our new undergraduate or postgraduate taught students that aren't living in University-managed student accommodation, we have created CommUNITY Life. Just like ResLife, CommUNITY Life has a fully inclusive event schedule running throughout term time designed to help our students get to know their neighbours, community, and campus. Events include various socials like quizzes, movie nights and cultural evenings.
Additionally, our CommUNITY Life Student Assistants have been providing a valuable peer support network, running daily drop-in sessions, life-skills/hacks workshops and signposting students to the extensive support services offered by the University.
Follow CommUNITY Life on Instagram for the latest updates and social activities.
Tablet Delivery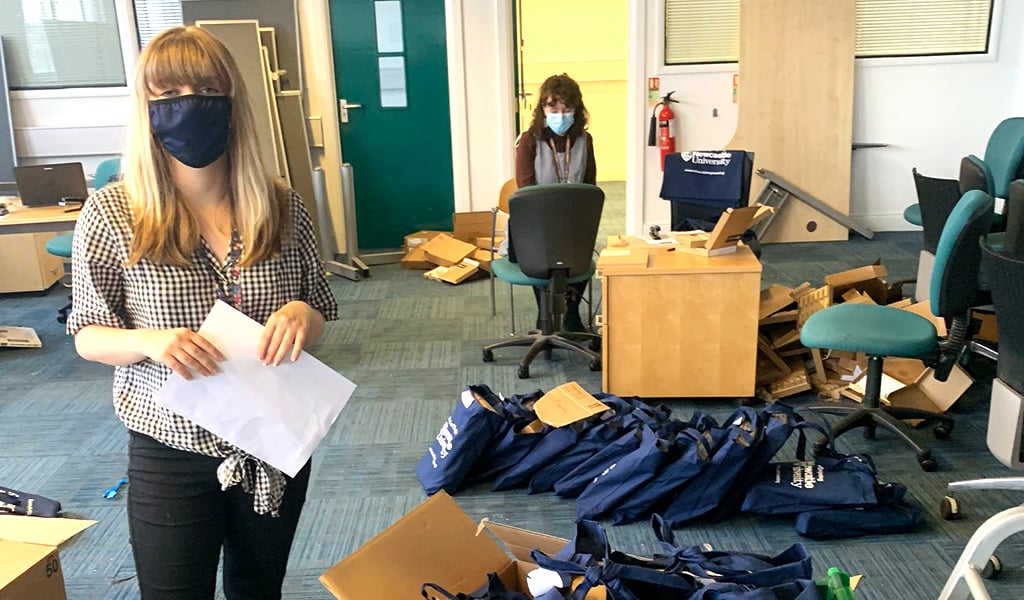 Over in our School of Engineering, our teams have been safely delivering tablets to our new Engineering students. Each year, all our new Engineering students entering year 1 or year 2 receive a tablet to support them in their studies and, thanks to the dedication of our colleagues, this year has been no different.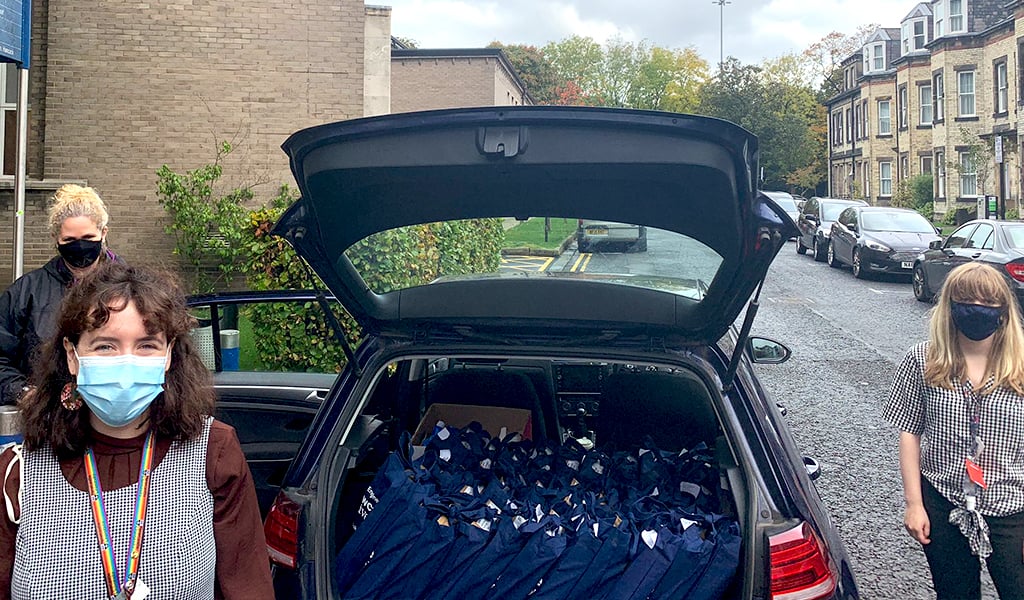 If you're a current student struggling with issues related to Covid-19 please see our updated FAQs pages for the latest information.
Self-isolating students can find more about the support available to them here.