Here at Newcastle University, we value individual differences and the diversity that this brings. We want to ensure that our campus is an environment for all to be treated with dignity and respect and that no-one is at a disadvantage because of who they are.
Dr. Malasree Home, Race Equality and Accreditations Advisor within our Equality, Diversity and Inclusion Team, and member of the Race Equality Charter Self-Assessment Team (REC SAT), highlights some of the work Newcastle University is doing and also suggests some further reading on anti-racism to explore.
With special thanks to Louise Wright, Suzie Dziegiel, Vi Parker, Renita Barbour, Peter Hopkins and the BAME Staff Network for their assistance in putting this piece together.
Anti-Racism Initiatives at Newcastle University

Newcastle University BAME Network
The Newcastle University BAME (Black, Asian and Minority Ethnic) Network is an inclusive, cross-faculty, collective space that serves as a community of peer support, and a platform for advocacy and engagement. The network supports colleagues and postgraduate researchers from BAME backgrounds and welcomes support from White allies.
The network would like to hear as many BAME voices as possible, to ensure that the support, advocacy and representation it provides reflects the needs of our BAME Community and ensures that we are working towards equity and inclusion.
Please join today so your voice can be heard.
Equality, Diversity and Inclusion Newsletter
Our Newcastle University Equality, Diversity and Inclusion (EDI) team will be sending out a quarterly newsletter very soon. This newsletter will feature a range of EDI news, views, training, and activities happening across the University relevant for students and colleagues.
The first edition will include a brief introduction to Paul Britton, Head of EDI, and the various projects he is involved with. To receive this newsletter, please sign-up here.
Equality, Diversity and Inclusion Training
Our EDI team are working hard to develop training that caters to different areas and needs of the University, including that of students.
We are in the process of developing two essential training programmes, Active Bystander Training and a Bias and Behavioural Workshop, which we hope to pilot to colleagues in the coming months, as well as rolling out to students in future. Additionally, we have started to implement Understanding White Privilege training and are also working on programmes looking at the use of language.
Currently, we have an EDI programme available to all University staff members on understanding unconscious bias from our Organisational Development team via the Learning Management System.
Supporting Students with NUSU
For any student seeking support, our Students' Union's dedicated Welfare and Equality Officer can be contacted at welfare.union@ncl.ac.uk and Racial Equality Officer at ar.union@ncl.ac.uk. You can also find more BAME student resources and support here.
Report and Support
As part of our University's commitment to providing a safe and inclusive environment for all students and colleagues, we have launched the Report and Support tool which will allow for both named and anonymous reporting of hate crime and unacceptable behaviours, expanding on the provision that we already had for students.
If you are unable to use this tool, please let us know using this email and our team will get back to you. Further details can be found here.
Working Together Against Racism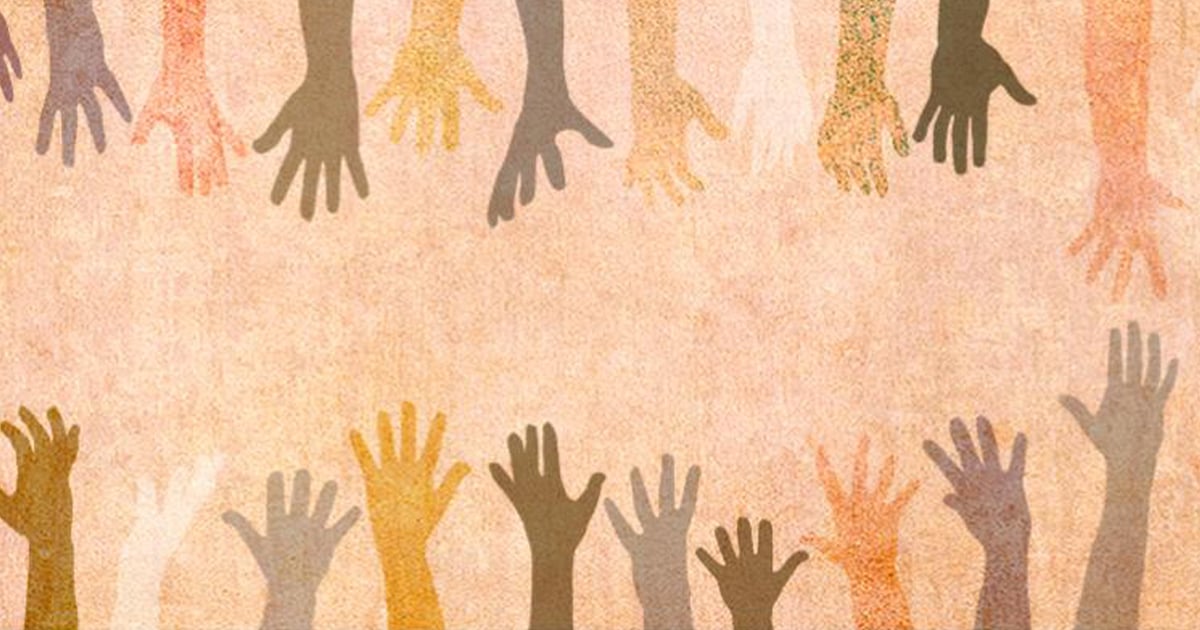 All five North East universities have been working in partnership on the Race, Crime and Justice Regional Research Network. The network analyses and comments on policy and practice issues in relation to the experience of ethnic minorities in a wide variety of contexts within criminal and social justice.
Learn more about our Institute for Social Science's research into tackling racism and sign up for our inaugural webinar, 'Researching Racism and Anti-racism' on 22nd March 2021.
Professor Peter Hopkins from our School of Geography Politics and Sociology contributed to a recent report on Islamophobia in the North East. Similarly, Growing up in Sunderland: Young People, Politics and Place focuses on young people's experiences of growing up in Sunderland, including issues of racism and Islamophobia.
Dr Heather Smith from our School of Education, Communication and Language Sciences has been working on ROMtels, using technology to support and improve both how Roma children learn and their sense of belonging.
Becoming Anti-Racist
Anti-racism is more than being non-racist, it is an active effort to work against racism's multidimensional aspects.
We've selected two key resources on anti-racism, from Professors Anneliese Singh and Andrew M. Ibrahim, which provide models and toolkits for being anti-racist at a personal level that can be easily visualised.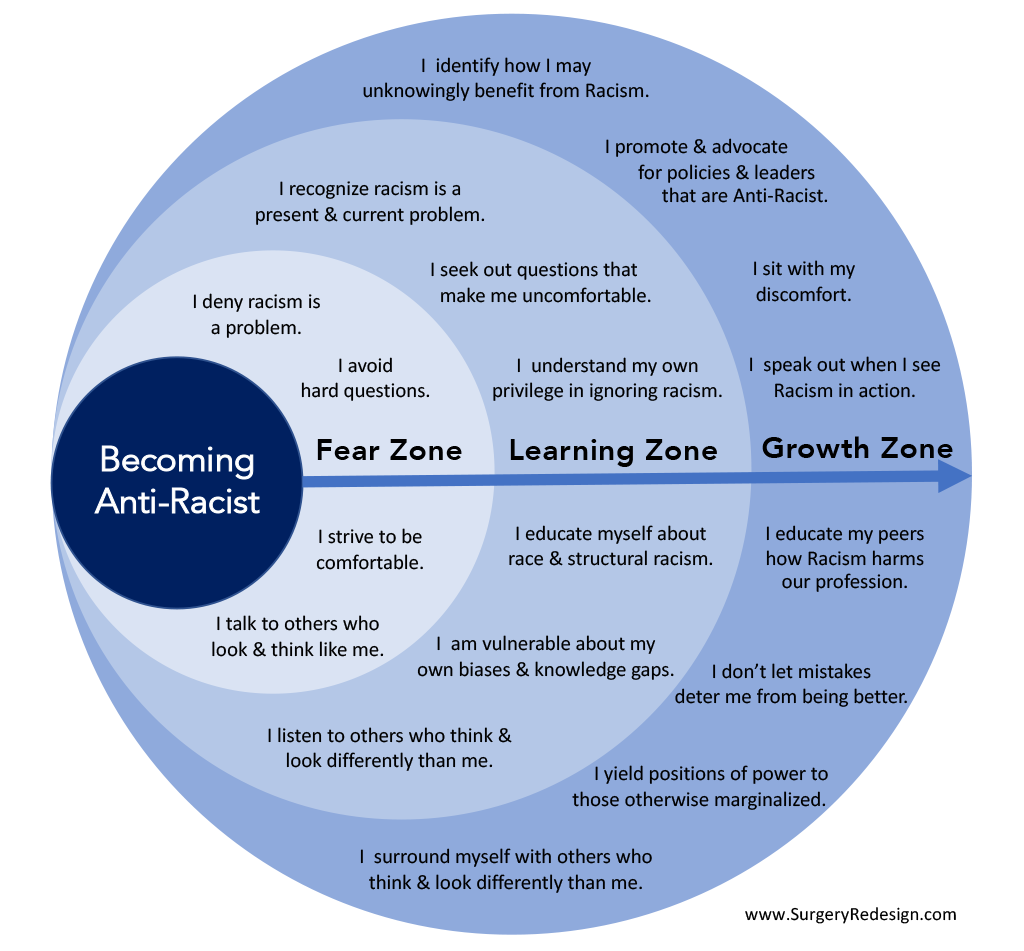 Andrew M. Ibrahim is Assistant Professor of Surgery and Architecture at the University of Michigan and Chief Medical Officer at HOK's Healthcare practice and creator of www.SurgeryRedesign.com.
Although initially intended as a way to help keep himself accountable whilst on his own journey toward becoming anti-racist, the model, which is inspired by the work of Dr Ibram Kendi, has since been shared far and wide, and continues to help people become aware of and address their own racial biases.
Take a moment to reflect on your own journey and which stage you identify with most.
The 6 R's of Anti-Racism
Professor Anneliese Singh is Associate Dean for Diversity, Equity and Inclusion in the College of Education at the University of Georgia, and author of Racial healing: Practical activities to help you challenge privilege, confront systemic racism and engage in collective healing (2019).
Professor Singh's work details how being anti-racist isn't an identity or a one-time decision - it's a commitment, and offers six practical steps White allies can take toward becoming anti-racist.
1. Read

Read and educate yourself on the effects, impacts and structures of racism.
There are many authors and researchers out there who engage in a wider discourse around anti-racism, and we encourage you to have a look at the resources curated by our campus libraries. Take a look at some of their suggested reading on Anti-Racism, White Privilege and Fragility, and Race and Intersectionality.
2. Reflect

Reflect on what this education means for you as someone developing a White anti-racist identity, such as identifying new ways to challenge everyday racism and work on racial justice initiates.
3. Remember

Remember how you participate in the thoughts, beliefs, and actions that uphold racism, whether you intend to or not and how you "forget" that racism exists. Identify internalised racial attitudes you have.
4. Take Risks

Take risks to challenge racism when you see it or realise when you are participating in it. Interrupt racial stereotypes when you hear them and support those in your personal and professional settings when they speak out about their experiences with racism.
5. Rejection

Rejection is something you'll experience as an anti-racist, as sometimes you will make mistakes and "get it wrong" when it comes to identifying and challenging racism.
Because of your White privilege, it will sometimes be tough to identify how something you are doing may be harmful; people may reject what you are saying and, even more so, hold you accountable for those missteps.
Learn to understand and accept rejection. People who experience racism have justified anger about it and they may reject you, or White people, harshly because of it. If this happens, understand that this is the product of their treatment at the hands of a racist system. Don't take it personally; rather, help them if you can and continue to stay in the fight against racism.
6. Relationship Building

Relationship building is a part of what you do along the way – with everyone else who is somewhere on their journey from non-racist to anti-racist.
Through dedicated working groups, events, research and projects across our campus, we aim to create a positive, supportive culture for everyone to reach their potential. Whilst we acknowledge there is still much more that needs to be done, our Newcastle University community is working hard to tackle racism.